Our Baby Boutique is running low on NEW baby essentials. We prefer to use brand new items, when we make the Layette's to Bless the Baby To Be.If you would like to help, we have made it as easy as possible and of course, safe during these times. We wouldn't be able to do, what we do, with out your financial support and prayers.
Amazon Wish ListGiving made easy & contact free.Shop NowTo learn how to become a Friend For Life, you can visit us online or call to schedule an appointment 209.368.7190Give Now ‌ ‌
Directions Medical Clinic | 942 E. Pine Street, Lodi, CA 95240
5/5/2020
Your Donations Are Making A Difference
Virtual Walk for Life 2020
Walk for Life 2020 will be held on May 16, 2020 from 9:00am-11:00am
at location of choice. What that means is you can participate from inside your house outside or wherever you feel safe. We will have live posts on our Facebook page. Each week fun challenges are being posted, qualifying you to win prizes. You can be a walker, create a team, become a sponsor, or make a pledge. It is quick and easy to sign up online, on our website or call the clinic and we can "walk" you through it.T-shirts will be available by donation. Call our office at 209.368.7190 or visit our website http://www.dmcforwomen.org.

Sign Up
Donate Now
Reaching our community
During shelter in place, we were able to provide diapers to Lodi Day Daycare, who remain open to provide childcare for first responders. This was one small way we could help those on the front lines, to eliminate the stress of having to grab diapers during their time off. We were also able donated diapers and wipes to Partners for International Cooperation. This nonprofit has been making home deliveries to those who are being affected by COVID.
Client Testimony

"I came to Directions Medical Clinic because I had just found out I was unexpectedly pregnant and at the time, we didn't have insurance. This was my first baby; I was nervous and did not know what to expect. The staff was warm & welcoming. They helped calm my fears and made me feel at peace. My husband and I are so grateful to Directions Medical Clinic. They are truly a blessing to us!" ——Mary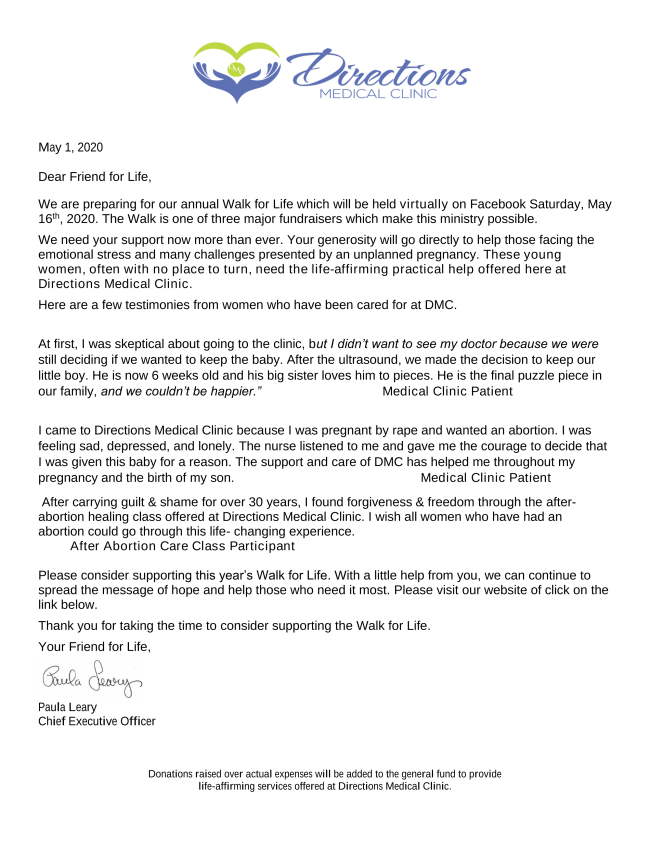 Hi Everyone,
I thought that I should let you all know that there will be no physical events for Walk 4 Life this year due to COVID-19. Instead they are calling it a "virtual walk 4 life."
For us this means, that I won't be collecting donations for Directions Medical Clinic. Instead, anyone one wants to give to this event can do so online using the DMC website or mail a check to either the Lodi or Stockton offices.
Shabbat Shalom!
Celeste